Why Chiropractic Care?
If your lower back bothers you, you are not alone. Eight out of ten adults will experience low back problems at some time in their lives. Most symptoms of low back pain are blamed on poor muscle tone in the back, muscle tension, spasms, ligament or muscle tears, and joint problems. In the past, individuals have subjected themselves to prolonged bed rest, uncomfortable traction, heavy sedation, injections, and surgery. But there is a safer, more natural approach to healing the back: Chiropractic care.
What Is Chiropractic?
Doctors of Chiropractic are highly trained physicians who recognize the relationship between the structure of the human body, especially the spine, and the function and well being of the nervous system. Hippocrates, the father of medicine, who routinely used spinal manipulation to heal the sick, said "Look well to the Spine for the cause of disease, and, if there is disease, look to the spine."
Doctors of Chiropractic medicine adjust the spine with easy, manual thrusts to move the spinal vertebrae back to their normal positions. A chiropractor will sometimes also adjust the joints of the neck, shoulders, arms, hips, legs and feet. Spinal adjustments may relieve a spectrum of ailments such as headaches, certain types of migraines, menstrual cramps, allergies, asthma, stomach disorders, spastic colon, and arm, hand, and leg or foot pain that's due to dysfunction of the neck or lower back. Some patients with asthma and emphysema turn to chiropractic care to release tension in the chest. Others may turn to chiropractic adjustments to help the ears drain properly, thus alleviating otitis media — the ear infection that plagues children.
Can misalignments cause general poor health?
There is no part of your body that escapes the dominance of your nervous system. Improper function of the spine due to slight misalignments, called subluxations, can cause poor health or function, even in areas far removed from the spine and spinal cord itself. Misalignments can also reduce the ability of your body to adapt to its ever-changing environment. Even the slightest malfunction of your spine may alter the regular transmission of nerve impulses, preventing that portion of your body from responding optimally. Chiropractic is a natural form of health care that uses spinal adjustments to correct these misalignments and restore proper function to the nervous system, helping your body to heal naturally. Chiropractic doesn't involve the use of drugs or surgery. Rather, a chiropractic spinal adjustment, the application of a precise force to a specific part of the spinal segment, corrects the misalignment, permitting normal nerve transmission and assisting your body to recuperate on its own.
What Happens during a Chiropractic Examination?
A chiropractor will take a medical history, conduct physical, neurological, and orthopedic examinations. Chiropractic physicians spend a considerable amount of time assessing posture, examining the spine, testing reflexes, joint motion, and muscle strength. X-rays and other diagnostic images are sometimes used to locate vertebral dysfunction and to rule out disorders like tumors or fractures, which require the attention of other healthcare experts.
Is Chiropractic Care Safe for Children?
Yes! There have been several large-scale research studies verifying the safety and effectiveness of chiropractic care for kids. The amount of force used to adjust an infant is comparable to the amount of force you use to test a ripe tomato at the grocery store. Chiropractors have been helping kids lead healthier lives for over 100 years Dr. Erickson adjusts children with a very gentle touch, and will treat your kids with the utmost of care.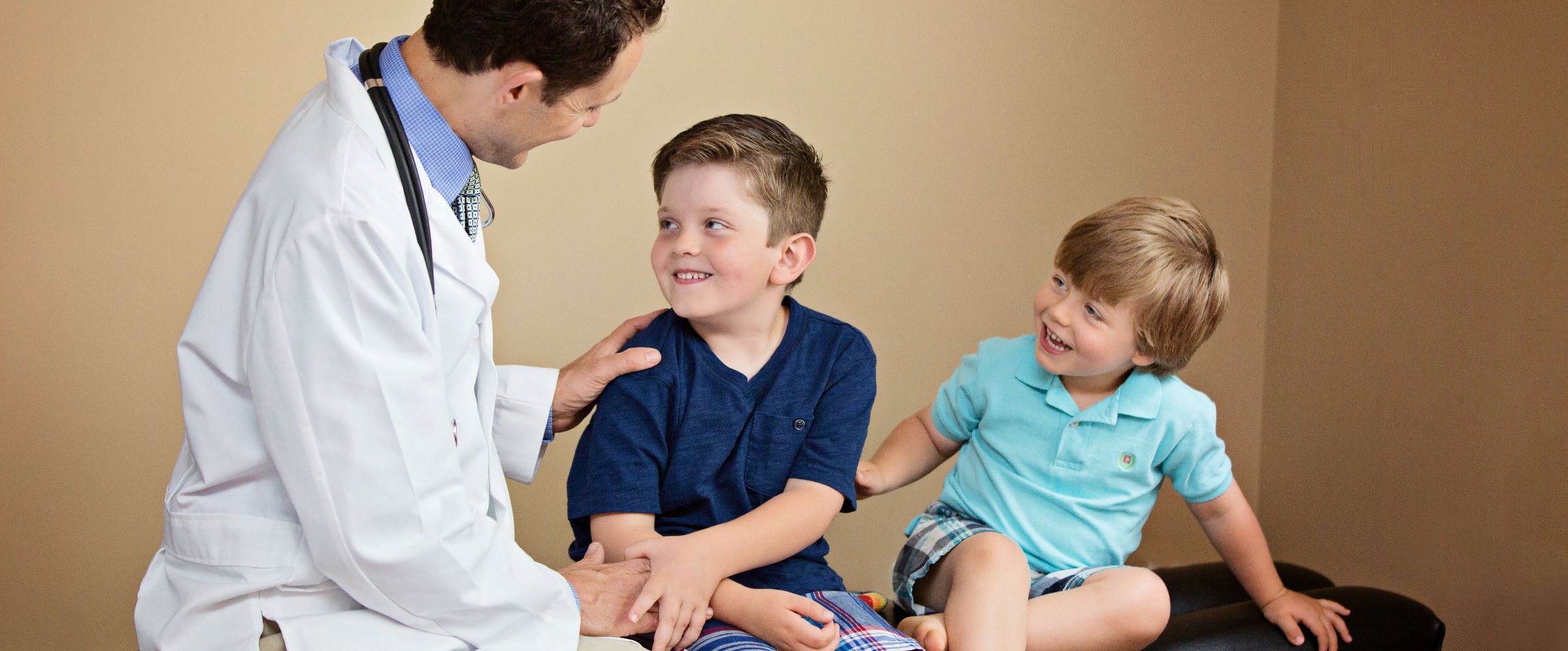 Why do kids need Chiropractic Care?
Bones model in response to outside physical stresses placed upon them (a concept known as Wolff's Law) and proper joint motion is needed to distribute these forces for optimal bone development. There are periods of time when skeletal growth is accelerated, commonly known as growth spurts, during which balance in the muscles and joints is especially important. Just like the bones of the skeleton, your child's nervous system is also developing at a rapid rate. The nervous system includes the brain, the spinal cord, and all the millions of nerves that serve every inch of your body and control most of its functions. Just like the bones need proper joint motion for optimal development, so do the nerves in order to develop optimal communication.
Is Chiropractic Care for Kids different than Chiropractic for Adults?
Although the basic premise for chiropractic care is the same whether the patient is 80 years old or 8 months old, the ever-growing and changing active little bodies of children have distinct needs depending on their stage of development. Generally, children respond much faster and more profoundly to chiropractic care than adults do. They have not subjected their bodies to the same years of abuse that adults have. Another major difference is that pain is not a primary system. This can make it more difficult for parents to know when kids need to visit their chiropractor. There are certain "clues" that we can watch for to gain more understanding in this area, such as postural changes, only wanting to breast feed from one side, being off-balance, and running with a limp.
When should I start bringing my kids in for adjustments?
It is never too early to bring your child to the chiropractor. Infants just minutes old are often checked by the loving hands of the family chiropractor, and it is not uncommon to stop by the chiropractor's office on the way home from the hospital. The birthing process is physically strenuous for both mom and baby, so it is best to get them both cared for as soon as possible afterwards. That being said, it is never too late either. Children may enjoy the benefits of chiropractic care at any age or stage of development.
Chiropractic for kids will vary as much as chiropractic for adults. As mentioned above, it is often difficult to know when your kids need to see the chiropractor because they do not generally present with pain. To help with this issue, we recommend setting regular Chiropractic Well-Child visits, the same way you would with your dentist and pediatrician. These help catch minor issues before they turn in to major problems and allow kids to truly maximize their healthy potential.
Times to consider bring kids in for an appointment include:
Major milestones (such as starting to sit up, crawl, walk, etc.)
Any trauma or falls
If you notice any signs of imbalance (limping, head tilting, etc.)
What are some Childhood Conditions Treatable with Chiropractic?
 Autism Spectrum Disorders
Ear infections
Common Cold
Colic
Constipation
Growing pains
Scoliosis
Bed wetting
Breastfeeding difficulties
Birthing Trauma
Digestive problems
Acid Reflux
Headaches
Hiatal Hernia
Sports injuries